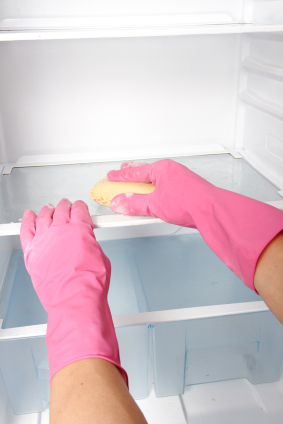 Our friends at LearnVest offer sound financial tips and advice for every aspect of life. Check out these spring cleaning rates everyone should know about.
It can be simultaneously satisfying and overwhelming to imagine ourselves finally scrubbing every nook and cranny of our homes come springtime.
Cleaning behind the fridge? (Do we really want to know what's back there?) Dusting the ceiling fans? (Where does all that filth come from?) And don't even get us started on how to go through that jam-packed closet …
Spring cleaning is a rite of passage — and we all want to live in sparkling, clutter-free homes — but our time also has value. If you try out our time-worth calculator, you'll quickly learn that sometimes it just doesn't pay to scrimp and save if it costs you too much time.
In anticipation of the upcoming spring cleaning season, we wanted to know: When does it make sense to spend our own time brightening living spaces — and when is it wiser to just spend the money and hire someone else to do it?
To arrive at the right answers, we gathered intelligence from a variety of different sources to get estimates of how long certain classic spring cleaning tasks might take an average person to complete, and how much said tasks might cost if a professional tackled them for us.
According to a nationwide survey conducted by LearnVest and Chase Blueprint®, respondents said they're willing to spend $24 on a dinner entrée and $71 on a pair of shoes. Viewed through this lens, would you be willing to skip a few dinners out to hire someone else to help you sort through all those old shoes in your closet?
A few notes on our spring-cleaning numbers
All of the figures in our chart are estimates, of course, and will vary based on where you live. Since the size of someone's space is a big variable, we asked our experts to estimate based on a two-bedroom, two-bath home, with an average-sized kitchen and living room.
Most of the tasks involve paying someone to do something for you, but a few involve getting someone to help you. When you hire a personal organizer, for example, you're getting expertise on what to keep and what to toss — but you obviously can't pay someone to go through your clutter and throw things out without your input.
Also note that while we've broken down the cost of specific cleaning tasks, in most cases, you won't be able to hire someone to come out for just one quick task. So although our experts broke out separate estimates for reference, you'll need to buy a package through most services.
Introducing the experts: For cleaning rates, we spoke to Lariza Diaz of Sweeping Dimensions in the Chicago area. For details on having a personal organizer help you sift through your closet, we consulted Jeanne Fiorini of She's NEAT in Maine and Suzanne O'Donnell of Los Angeles-based My LA Organizer. When it came to expertise on how to declutter piles of paperwork, we consulted Schae Lewis of Mission 2 Organize in Chicago. And for outdoor work — like window- and gutter-cleaning — we referred to the crowd-sourced wisdom of Costhelper.com.
| | | |
| --- | --- | --- |
| Task | Time to Do It Yourself | Cost to Get It Done |
| Dusting the house | 30 minutes | $15 |
| Sweeping and mopping hard surfaces, including baseboards | 1 hour | $30-$60 |
| Cleaning and disinfecting the bathroom | 1 hour | $30 |
| Degreasing exterior kitchen cabinets | 1 hour | $15-$30 |
| Cleaning the fridge | 1 hour | $60 |
| Cleaning bedrooms | 30 minutes | $30 |
| Going through your closet (small) | 2-2.5 hours | $80-$100 |
| Going through your closet (medium) | 3-6 hours | $120-$140 |
| Going through your closet (large) | Full day or two | $250-$400 |
| Carpet shampooing | This is hard to do yourself! | $100-$200 |
| Window washing | 5 hours | $75-$150 |
| Gutter cleaning | Few hours | $70-$200 |
More From LearnVest:
This post originally appeared on LearnVest.com on March 12 and was written by Allison Kade. It is republished here with permission from LearnVest.
Note: The views and opinions expressed in this article are those of the author and do not necessarily reflect the opinion or position of Zillow.